Laura Love Rocks!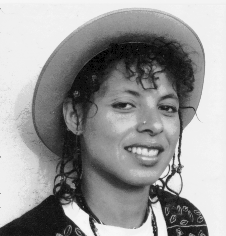 Laura Love is the best afro-celtic funkabily rock muscian in the world. And well this sounds like I may be limiting the competition conciderably, she is wildly fantastic. Laura Love has the most wild licks you'll ever hear on the electric base.
You may have guessed by now but The Laura Love Band is one of my very favorites.
I recomend seeing a live performance. However the albums that I own are all excellent. The Laura Love band can, far too infrequently in my opinion, be seen in Seattle. I last saw her many many years ago at the pier during the summer concert series. There were some guest musicians and it was a really fun time. It was even worth standing in the rain to see. I did get a bit of a cold though. They used to appear at the Ballard Backstage, but sadly that has now closed. Her next publicized appearance in Seattle is in January at Shoreline Community College, that should be swinging.
The show on the pier featured some very mean accordian, by Julie Wolf (I'm not sure on the spelling), as well as a woman on the violin who has done studio work with them in the past, but I got the impression that she hadn't been touring with them long as of this past summer. Both appear on the Laura Love Band's latest release, Octoroon. That's her 1st release on her new record label, "Big Time". The older albums are a little better, so snap them up if you get a chance.
Now I'm an old family man I have not been able to go to a concert in forever, but I'm working on it.